DESSERT
Dessert is typically a sweet course that concludes a meal.
Rum Baba: A rum baba or baba au rhum is a small yeast cake saturated in hard liquor, usually rum, and sometimes filled with whipped cream or pastry cream. It is most typically made in individual servings (about a two-inch-tall, slightly tapered cylinder) but sometimes can be made in larger forms similar to those used […]
Pignolata: Pignolata is a Sicilian pastry, which originated in Messina and is also common in Calabria. Pignolata is made of small portions of fried pastry, like large pearls, in a hot honey sauce, with chopped almonds or hazelnuts. Before serving, they are set on a plate, as a crown, with chopped nuts sprinkled over the […]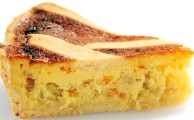 Pastiera: Pastiera is a type of Italian cake made with eggs, boiled wheat and ricotta cheese. Pastiera originates from the area of Naples and is typical prepared during Easter time. The Pastiera has to be cooked some days in advance, in order to allow the fragrances to mix properly and result in that unique flavour.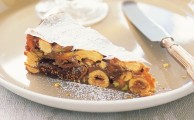 Panforte: Panforte is a traditional Italian dessert containing fruits and nuts, and resembles fruitcake or Lebkuchen. Literally, panforte means "strong bread" which refers to the spicy flavour. The process of making panforte is fairly simple. Sugar is dissolved in honey and various nuts, fruits and spices are mixed together with flour. The entire mixture is […]
Anisette Cookies: Anisette cookies are one of those very traditional Italian cookie recipes. This cookie gets it's flavoring from the anise extract. And if you aren't familiar with anise – the closest thing it taste like is black licorice (Even though licorice isn't a part of the ingredient).