STARTERS
Starters are dishes served before the main course, or between two principal courses of a meal.
Sweet and Sour Pork: Sweet and sour pork, the arguably the most well-known Chinese recipe in the world, is a classic Cantonese dish. Sweet and sour pork is very pleasing to the palate because of the flavorsome sweet and sour sauce—the sweetness from sugar plus the tangy ketchup and sharp rice vinegar—with the crispy fried […]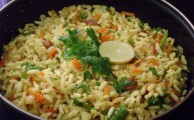 Mandakki: Mandakki also also known as Uggani or Burugula Upma, a popular street food and a snack served across Karnataka. Mandakki is extremely tasty and easy to make and is usually served with the green chili bajji and thick yogurt. Mandakki can be prepared very quickly by anyone, even kids can easily make this if […]
Crab Rangoon: Crab rangoon are deep-fried dumpling appetizers served in American Chinese and more recently, Thai restaurants, stuffed with a combination of cream cheese, lightly flaked crab meat, with scallions, and/or garlic. These fillings are then wrapped in Chinese wonton wrappers in a triangular or flower shape, then deep fried in vegetable oil.
Puli Pongal: Pongal is a popular rice dish in South Indian cuisine and Tamil cuisine of Sri Lanka. Puli Pongal (lit. tamarind pongal) is generally prepared in temples as a prasadam, (an offering made to a deity, as a thanksgiving). The main ingredients are broken raw rice and tamarind and often eaten ad breakfast or […]
Tandoori Chicken: Tandoori Chicken is a popular South Asian (also very popular in UK) dish consisting of roasted chicken prepared with yogurt and spices. The name comes from the type of cylindrical clay oven, a tandoor, in which the dish is traditionally prepared. Tandoori Chicken is a dish of Mughlai cuisine. It was popular among […]