INDIAN RECIPES
The recipes categorized under Indian origin
Chana Biriyani: Chana biriyani is a flavourful and a very simple dish. As chana (chickpeas) is rich in protein and fibre, this biriyani is very healthy and makes a wholesome meal. It also makes a perfect lunch box recipe. You can serve chana biriyani with curd or raita and mango pickle. It is vegetarian version […]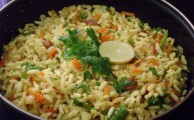 Mandakki: Mandakki also also known as Uggani or Burugula Upma, a popular street food and a snack served across Karnataka. Mandakki is extremely tasty and easy to make and is usually served with the green chili bajji and thick yogurt. Mandakki can be prepared very quickly by anyone, even kids can easily make this if […]
Ellu Sadam: Ellu sadam also known as Sesame Rice or Til ke Chawal, has a distinct nutty flavour to it and is a favourite lunch-box recipe of Tamil Nadu. Ellu sadam is mostly served as Naivedaym during festival in Tamil household during the saturdays of the tamil month Puratasi.
Puli Pongal: Pongal is a popular rice dish in South Indian cuisine and Tamil cuisine of Sri Lanka. Puli Pongal (lit. tamarind pongal) is generally prepared in temples as a prasadam, (an offering made to a deity, as a thanksgiving). The main ingredients are broken raw rice and tamarind and often eaten ad breakfast or […]
Gongura Mutton: Gongura mutton is a traditional speciality from the south Indian cuisine originating from the states for Andhra Pradesh and Telangana. The mild tangy taste of red sorrel goes very well with the tender lamb/mutton making this gongura mutton recipe all the more irresistible.