DESSERT
Dessert is typically a sweet course that concludes a meal.
Crostata: A crostata is an Italian baked tart and a form of pie. It has been known by various names throughout Italy, including coppi in Naples and sfogliate in Lombardy. Historically, it also referred to an "open-faced sandwich or canapé" because of its crusted appearance. Similar to the French galette, a crostata is a "rustic free-form […]
Biscotti: Biscotti (literally means: twice cooked), also known as cantuccini (English: coffee bread), are twice-baked cookies (or biscuits) originating in the Italian city of Prato. The biscuits are oblong-shaped almond biscuits, made dry and crunchy through cutting the loaf of dough while still hot and fresh from baking in the oven."Biscotti" is the plural form of […]
Cannoli: Cannoli are Sicilian pastry desserts. The singular is cannolo (or in the Sicilian language cannolu), meaning "little tube", with the etymology stemming from the Latin "canna", or reed. Cannoli originated in Sicily and are a staple of Sicilian cuisine. They are also popular in Italian American cuisine. In Italy, they are commonly known as "cannoli […]
Cassata: Cassata or Cassata siciliana is a traditional sweet from the area of Palermo, Sicily, Italy. Cassata may also refer to a Neapolitan ice cream containing candied or dried fruit and nuts. Cassata consists of round sponge cake moistened with fruit juices or liqueur and layered with ricotta cheese, candied peel, and a chocolate or vanilla […]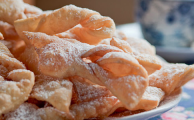 Angel Wings: Angel wings are a traditional sweet crisp pastry made out of dough that has been shaped into thin twisted ribbons, deep-fried and sprinkled with powdered sugar. Traditionally present in several European cuisines, angel wings are known by many other names and have been incorporated into other regional cuisines.