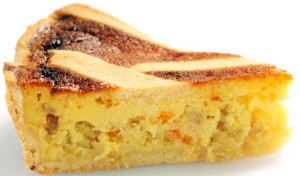 Pastiera: Pastiera is a type of Italian cake made with eggs, boiled wheat and ricotta cheese. Pastiera originates from the area of Naples and is typical prepared during Easter time. The Pastiera has to be cooked some days in advance, in order to allow the fragrances to mix properly and result in that unique flavour.
Ingredients for Pastiera
(serves 6-8):
For Crust:
3/4 cups cold unsalted butter, cubed to small pieces
1/2 cup powdered sugar
3 egg yolks
2-3 drops of vanilla essence
1 cup all-purpose flour
For Filling:
2 cups ricotta cheese
1 cup granulated sugar
1 cup cooked wheat
1/3 cup milk
3 eggs
Zest of 1 lemon, grated
2 tbsp orange blossom water
1/2 tsp vanilla extract
1/2 tsp ground cinnamon
6 tbsp mixed candied fruit
2 tbsp unsalted butter, at room temperature
2 tbsp powdered sugar
A pinch of salt
Method for Pastiera:
Put the flour and butter into a food mixer.
Mix until a grainy consistency is reached.
Blend in the yolks, powdered sugar, vanilla essence till a uniform mixture is formed.
The dough for the pastiera's crust is ready.
Wrap the dough in cling-film and let it rest in the fridge for 2 hours.
Meanwhile mix the ricotta with the sugar in a bowl.
Mix well till the sugar is properly incorporated into the ricotta.
Add in rest of the ingredients under "For Filling".
Mix well.
The filling for pastiera is ready.
Roll out the rested dough to a thickness of 0.2 inch.
Line the cake pan with the rolled out dough, similar to pie's crust.
Prick the crust all over with a fork for uniform cooking.
Pre-heat the oven to 180° C.
Fill in the pastiera filling into the dough lined cake pan, to the brim.
Make long rectangular dough strips and lay them crisscross across the top of the cake like a fruit flan.
Bake the pastiera at 180° C for about 1 hour and 30 minutes.
Remove and cool on a wire rack to room temperature or chill it overninght.
Pastiera is ready to be served.
Cut the pastiera into wedges and serve.
If you have any queries regarding the Pastiera recipe, please leave a comment.
Summary
Recipe Name
Published On
Preparation Time
Cook Time
Total Time
Average Rating
Based on 1 Review(s)