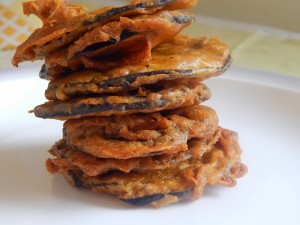 Eggplant Pakora: Eggplant Pakoras are a North Indian appetizer, made out of eggplant or brinjal that are battered in chickpea flour and water and then deep fried. Eggplant pakoras are usually complemented with tamarind chutney, mint chutney and sometimes ketchup and tea.
Ingredients (serves 2):
1 medium eggplant
Juice of 1 lemon
1 cup gram flour
1/2 tsp salt
1/2 tsp baking soda
1/2 tsp cayenne pepper
1/4 tsp coriander powder
Water, as required
Vegetable oil, for deep frying
Method:
Cut the eggplant into 1/8-inch thick slices.
Wet both sides of the eggplant slice with lemon juice, to stop the oxidation of eggplant.
Set aside.
Mix gram flour, salt, baking soda, cayenne pepper and coriander powder in a bowl.
Add in the water, little at a time.
Mixture should have the consistency of pancake batter.
Set aside.
Heat the oil over medium heat, in a large frying pan.
Oil should cover bottom of the pan and be approximately 1/8-inch in depth.
Take 5-6 eggplant slices and dip them into the flour batter.
Make sure to coat both sides of the eggplant well.
Place in hot pan and fry both sides until golden brown.
Remove from oil and drain.
Place the fried eggplant pakoras on a kitchen towel to absorb excess oil.
Serve hot eggplant pakoras with mint chutney and tomato ketchup.
If you have any queries regarding the Eggplant Pakora recipe, please leave a comment
Summary
Recipe Name
Published On
Preparation Time
Cook Time
Total Time
Average Rating
Based on 1 Review(s)