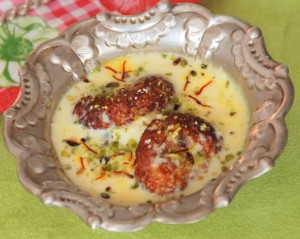 Rasabali: Rasabali is a sweet dish from Orissa, India. Rasabali is offered to Baladev ji (lord Balaram), and originated in the Baladev ji Temple of Kendrapara. It is one of the Chapana bhoga (56 bhogas) of Jagannath temple. It consists of deep fried flattened reddish brown patties of chhena (cottage cheese) that are soaked in thickened, sweetened milk.
Ingredients (serves 4):
1 cup chenna
1/2 tsp baking soda
1 tsp semolina
1 tsp all purpose flour
2 tbsp sugar, for chenna balls
1 litre full cream milk
1/2 cup milk powder
A few strands of saffron
1 1/2 cup sugar, for ras
4 cardamoms crushed
1/2 tsp green cardamom powder
 Oil, for deep frying
Almond or cashew slivers, for garnishing
Method:
Mix chenna, all purpose flour, semolina, 2 tablespoons sugar, baking soda and green cardamom powder.
Knead to make smooth dough.
Make 16-20 small equal sized balls.
Flatten each ball by using your palms, to make a small patty.
Keep aside.
Heat the oil to around 180°C in a kadai or a deep bottomed vessel.
Add the flattened chenna balls, few at a time and deep fry them till both the side turns to golden brown in colour.
Drain excess oil in a kitchen tissue paper.
Keep aside.
Mix the milk and milk powder in a heavy bottom non-stick vessel.
Boil the milk mixture in low flame.
Stir continuously.
Add in the crushed cardamoms, sugar and half of the saffron strands.
Mix properly.
Cook the milk; stirring continuously for about 40-45 minutes or till the milk is reduced to half the initial amount.
Add the fried chenna balls to the boiling milk.
Boil for another 3-4 min in a low flame .
Remove from the heat.
Let the rasabali cool down to the room temperature.
Refrigerate for about 2-3 hours.
Ladle the chilled rasabali into serving bowls
Serve, garnished with slivered nuts and saffron strands.
If you have any queries regarding the Rasabali recipe, please leave a comment
Summary
Recipe Name
Published On
Preparation Time
Cook Time
Total Time
Average Rating
Based on 1 Review(s)