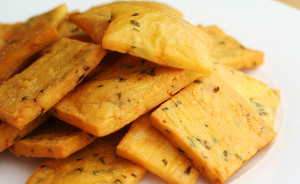 Panelle: Panella are Sicilian fritters made from gram flour and other ingredients. They are a popular street food in Palermo and are often eaten between bread or on a roll, like a sandwich. Panelle are believed to be of Arabic origin. They are called Panella or paneddi in Sicilian language.
Ingredients(serves 4):
1 cup chickpea flour
Salt, to taste
Freshly ground black pepper, to taste
2 tbsp olive oil
Vegetable or olive oil for greasing and frying
1 lemon, cut into wedges
Water, as required
Method:
Bring 2 cups water to a boil in a small saucepan.
Put the chickpea flour in a large bowl.
Gradually add the boiled water to the bowl with the chickpea flour, whisking constantly.
Whisk vigorously to prevent lumps.
Scrape the mixture back into the saucepan used to boil the water.
Sprinkle with salt and freshly ground black pepper.
Bring the mixture to a boil.
Reduce the flame to a gentle simmer.
Stir in 2 tablespoons of olive oil.
Cook for just over a minute.
Grease an 8-by-8 baking dish or a quarter sheet pan with some oil.
Scoop the chickpea mixture onto the sheet pan.
Spread it into an even layer.
Loosely cover the tray with parchment or plastic wrap.
Let it cool down to room temperature.
Refrigerate for at least 30 minutes, or up to 24 hours.
Put at least 1/4 inch oil in a large skillet over medium heat.
Heat the oil to 250°C.
Cut the chickpea mixture into squares (about 1 inch X 1 inch) or rectangles (about 1 inch X 2 inch).
Blot any excess moisture with a paper towel.
Working in batches, gently drop them into the hot oil.
Cook, rotating them occasionally until they're golden all over, takes about 3 to 4 minutes.
Drain Panelle on paper towels.
Immediately sprinkle with salt and lots of freshly ground black pepper.
Serve hot, with lemon wedges.
If you have any queries about this Panelle Recipe , please write down in comment box below
Summary
Recipe Name
Published On
Preparation Time
Cook Time
Total Time
Average Rating
Based on 1 Review(s)