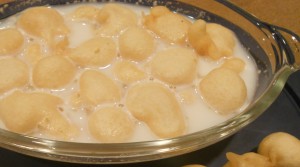 Paal Paniyaram: Paal paniyaram is a traditional Chettinad recipe.  Chettinad Cuisine is well known for their spicy, aromatic flavours. Traditional recipe suggests using raw rice and urad dhal to make a thick batter, which is then fermented and made as paniyaram. The idli batter, having the same composition and readily available in most of the South Indian's homes, can be used to make paal paniyaram. Ingredients (serves 4-6):
250 ml idly (idli) batter
500 ml milk
250 ml coconut milk
1/2 tsp green cardamom powder
75 gms sugar
Oil, for frying
Method:
Heat the milk in a pan, on medium heat.
Cook the milk for about 5 to 10 minutes.
Add in the sugar.
Stir well.
Add in the coconut milk and green cardamom powder.
Take off the milk mixture from heat.
Heat the oil in a kadai, for deep frying.
Drop small spoonful of idli batter in the hot oil.
Fry them until they look very light brown in colour.
Remove the fried paniyaram's from the oil.
Drain the excess oil using the kitchen towel.
Add the fried paniyaram's in the hot milk.
Let paniyaram's soak for about 10 minutes.
Paal paniyaram's are ready to be served.
Serve immediately, along with the milk.
Notes:
In case if you find that your dumplings/ paniyaram's are too hard, you can immerse them in hot water for 5 minutes and then soak it in milk.
You can vary amount of sugar according to your taste.
If your batter is too thin, you can add some rice flour and mix well.  Make sure you don't add too much rice flour which will harden the paniyaram and it will be doughy.
If you have any queries regarding the Paal Paniyaram recipe, please leave a comment.
Summary
Recipe Name
Published On
Preparation Time
Cook Time
Total Time
Average Rating
Based on 1 Review(s)