Chinese Hot Pot: Chinese Hot pot (also known as steamboat), refers to several East Asian varieties of stew, consisting of a simmering metal pot of stock at the center of the dining table. While the hot pot is kept simmering, ingredients are placed into the pot and are cooked at the table. Typical hot pot dishes include thinly sliced meat, leaf vegetables, mushrooms, wontons, egg dumplings, and seafood. Vegetables, fish and meat should be fresh. The cooked food is usually eaten with a dipping sauce.
Ingredients (serves 4-6):
For Spicy Paste:
3 tbsp Sichuan Spicy Bean Paste
5 dried chillies, soaked in water until soft
1 tbsp Chinese black bean paste
4 inch ginger, sliced
4 cloves of garlic
Oil, as required
1/2 cup Chinese cooking wine
1 tbsp rock sugar
Dry Spices:
3 star anise
1 tbsp Sichuan Peppercorn
1 black cardamom
4 green cardamoms
2 sand ginger
1 piece cinnamon stick
3 slice liquorice
1 tbsp fennel seeds
For the stock:
1kg beef or Pork or chicken bones
3 inch ginger, sliced
2 Scallions
3 Bay leaves
8 litres water
To serve:
Lamb fillet, thinly sliced
Raw prawns, shelled and de-veined
Fish balls
Shrimp balls
Daikon, sliced
Firm tofu, cut into chunks
Enoki mushrooms
Baby sweet corn, sliced
Carrots, sliced
Chinese Hot Pot Equipment: The most common hot pot setup requires two pieces of equipment:
A single-burner tabletop stove powered by butane is normally used to serve the boiling pot.  Make sure to choose a portable single- burner that can adjust the output.
Although any stainless steel pot can be used to serve the hot pot, I normally use a special pot with a divider in the middle so I can serve half spicy & half non-spicy.
Method:
Make the base stock by combining beef or pork bones or chicken skeleton with water, ginger, scallion, bay leaves.
Broil and simmer for 3 hours.
Note: The base stock can be made in advance.
Chop the Sichuan Spicy Bean Paste, soaked dry chilli, ginger, garlic, and black bean paste.
Combine 4 tbsp of oil with all the chopped ingredients
Cook in low heat for 10 minutes.
Stir frequently.
Add the rest of the ingredients (dry spices, cooking wine and sugar) to the paste.
Continue to cook in low heat for another 30 minutes.
Turn off the heat.
This is the spicy paste for the Chinese hot pot.
Note: The spicy paste can be made in advance.
Before serving the hot pot, combine the spicy paste with base stock and bring to boil.
Add additional ginger, dried chili, and salt to taste.
Arrange the lamb, prawns, tofu, mushrooms etc. on separate plates.
Transfer the stock and spicy paste mixture to the stainless steel container on the table top burner and place it in the center of the table.
Let guests help themselves and cook the ingredients in the spicy broth.
Serve with the dipping sauces (Hoisin sauce, Soy sauce, Sesame butter etc.).
If you have any queries regarding the Chinese Hot Pot recipe, please leave a comment
Summary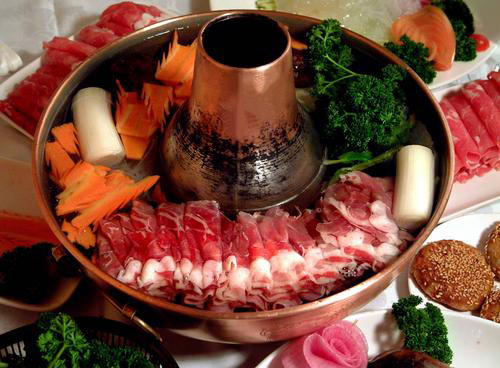 Recipe Name
Published On
Preparation Time
Cook Time
Total Time
Average Rating
Based on 1 Review(s)