Chhena Gaja: Chhena gaja is a sweet dish from Orissa, India. Unlike some other popular chhena-based Oriya desserts, such as rasagolla, which have spread throughout India, the chhena gaja remains largely popular within the state itself. Although the ingredients of chhena gaja are essentially the same as that of rasagolla and chhenna poda, the dishes could not differ more in taste.
Ingredients (Serves 4):
1 litre Milk for chhena
Juice of 1 lemon
2 tbsp semolina or sooji
2 cups sugar
1/2 cup water
1 tsp rose water
Oil, for deep frying
Method:
Boil the milk on medium heat in a heavy bottomed pam.
Add in the lemon juice and stir mixture continuously till it becomes curdled.
Drain the curdled milk through a muslin cloth.
Wash the chenna under running water, to remove the lemony taste.
Squeeze out all the excel water out of the chenna.
Transfer the chenna in a bowl.
Add in the semolina.
Knead the chenna-semolina mixture, till it acquires a doughy consistency.
Make 16 to 20 equal sized balls from the dough.
Shape each dough ball to a rectangle shape with the help of your palm.
Heat the oil to 180°C, in a deep fryer.
Fry all the chenna rectangles, a few at a time, in the oil, till golden brown on both sides.
Keep aside the fried chenna rectangles.
Boil the water and sugar in a pan to make the sugar syrup.
Cook for approx 5-6 minutes, stirring continuously, till 1 string consistency is reached.
Remove the sugar syrup from heat.
Add in the rose water.
Mix well.
Dip the fried chenna rectangles in the sugar syrup.
Chenna Gaja's are ready to be served.
Serve warm.
If you have any queries regarding the Chhena Gaja recipe, please leave a comment
Summary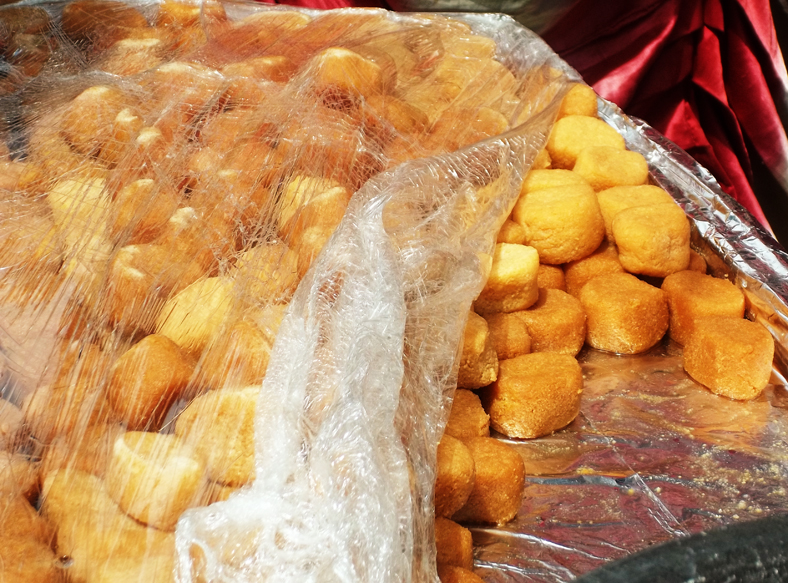 Recipe Name
Published On
Preparation Time
Cook Time
Total Time
Average Rating
Based on 8 Review(s)