ITALIAN RECIPES
The recipes categorized under Italian origin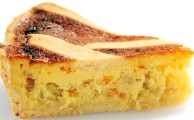 Pastiera: Pastiera is a type of Italian cake made with eggs, boiled wheat and ricotta cheese. Pastiera originates from the area of Naples and is typical prepared during Easter time. The Pastiera has to be cooked some days in advance, in order to allow the fragrances to mix properly and result in that unique flavour.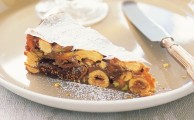 Panforte: Panforte is a traditional Italian dessert containing fruits and nuts, and resembles fruitcake or Lebkuchen. Literally, panforte means "strong bread" which refers to the spicy flavour. The process of making panforte is fairly simple. Sugar is dissolved in honey and various nuts, fruits and spices are mixed together with flour. The entire mixture is […]
Spaghetti Alla Puttanesca: Spaghetti alla puttanesca (literally "spaghetti a la whore" in Italian) is a tangy, somewhat salty Italian pasta dish invented in the mid-20th century.The sauce alone is called sugo alla puttanesca in Italian. Traditionally, the sauce is served with spaghetti, although it also goes well with penne, bucatini, linguine and vermicelli.
Penne Al'arrabiata: Penne al'arrabiata which literally means penne pasta in angry sauce. Arrabbiatasauce, is a spicy sauce for pasta made from garlic, tomatoes, and red chili peppers cooked in olive oil. "Arrabbiata" literally means "angry" in Italian, and the name of the sauce is due to the heat of the chili peppers. The ridges of penne […]
Focaccia: Focaccia is popular in Italy and is usually seasoned with olive oil and salt, and sometimes herbs, and may be topped with onion, cheese and meat, or flavored with a number of vegetables. Focaccia dough's are similar in style and texture to pizza dough's, consisting of high-gluten flour, oil, water, salt and yeast. Focaccia is […]