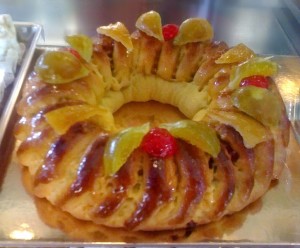 Buccellato: Buccellato is a cake typical of Lucca, Italy which is eaten all year, especially during the demonstrations of the Exaltation of the Holy Cross and Crossbow held in Lucca in September.Buccellato di Lucca derives its name from the Latin Buccella, or bite, to the ancient Romans buccellatum the format was a round loaf of bread or a crown buccellae.
Ingredients(serves 6):
3 large eggs
4 tbsp unsalted butter, at room temperature
1/2 cup warm water
1 cup warm milk
1/2 cup sugar
1 package active dried yeast
6 cups all-purposeflour
1 cup raisins
1 tbsp anise seeds, crushed
1 tsp salt
1 baking paper
1 small metal bowl
Method:
Take warm water in a large bowl.
Dissolve the yeast in the warm water.
Stir in the milk, 2 eggs, sugar, and butter.
Stir in two cups of the flour, raisins, anise seeds, and salt.
Keep adding the remaining flour, a little at a time, until a soft ball of dough is created.
Place the dough in a lightly greased bowl, cover tightly with plastic wrap.
Let it to rise for 1 hour.
Preheat theoven to 375 F.
Transfer the dough to a floured surface.
Punch down the dough with your fists.
Knead the dough for a few minutes.
Roll out the dough into a 32-inch rope.
Bring the ends together to form a ring shape.
Place the dough ring on a baking paper.
Cover with a clean towel.
Let the dough rise until almost doubled.
Butter the outside of small metal bowl.
Insert the well-buttered bowl, in inverted fashion, inside the dough ring.
Whisk the remaining egg, in a small bowl, to make egg-wash.
Brush the dough with the egg-wash.
Bake the dough, until golden brown (takes about 35 to 40 minutes).
Buccellato is baked and ready.
Remove the buccellato to a cooling rack to cool completely.
Serve the buccellato with a cup of hot capuchino.
If you have any queries about this Buccellato Recipe , please write down in comment box below
Summary
Recipe Name
Published On
Preparation Time
Cook Time
Total Time
Average Rating
Based on 1 Review(s)